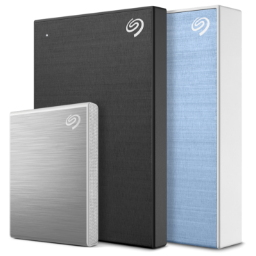 Big Things Come in Small Packages
We can all use some extra space. To store our digital content, that is. That's why we designed the One Touch family of HDDs and SSDs — premium, high-capacity, portable storage to help you manage your digital world with ease and confidence. Durable and dependable, keep your content with you so it's ready to access — whenever you need it.
High Capacity. Stellar Style.
Refined and understated. Cozy and textured. One-Touch comes in an array of styles and capacities made to compliment your signature look. And whether you're storing yearly tax documents or ever-growing collections of high-res photos, capacity won't be an issue.
Measurably Small. Amazingly Fast.
Accelerate your performance and score some downtime with One Touch SSD. With speeds up to 1,030 MB/s4 to transfer large files without delay, an Android app to backup photos and videos — freeing up device space — plus up to 2 TB capacity and simple plug-n-play USB-C Windows and Mac compatibility to keep files handy. Travel-sized and styled right, work seamlessly from the drive — wherever you are.
An External SSD Outfitted for Android
With One Touch SSD, backup your Android's videos, photos, and more and free up extra space on your device! Featuring USB-C connectivity and our new Android backup app (download via the Google Play Store. Click here if the Google Play Store is not available.) Transfers are quick and easy, and OneTouch SSD is perfect for taking your content on the go. Click here for a list of devices that have been factory-tested for compatibility.