ROG Strix Go 2.4
ROG Strix Go 2.4 is a USB-C® 2.4 GHz wireless gaming headset equipped with an included 3.5 mm cable and an AI Noise-Canceling Microphone that provides low-latency performance across PC, Mac, Nintendo Switch™, PS5 and smart devices.
Low-latency 2.4 GHz wireless connection via a USB-C adapter that's compatible with Nintendo Switch in handheld mode, smart devices, PC, Mac and PS5, plus a 3.5 mm connector for Xbox One and other 3.5 mm devices
Extremely lightweight design, with included carry bag for on-the-go use and protection
Industry-leading AI noise-cancelling microphone enables crystal-clear in-game voice communication
Impressively fast charging provides three hours' use with just a 15-minute charge, plus up to 25-hour total battery life for nonstop gaming
Exclusive airtight chambers and 40 mm ASUS Essence drivers deliver incredibly rich, pure sound with optimized deep bass for an immersive audio experience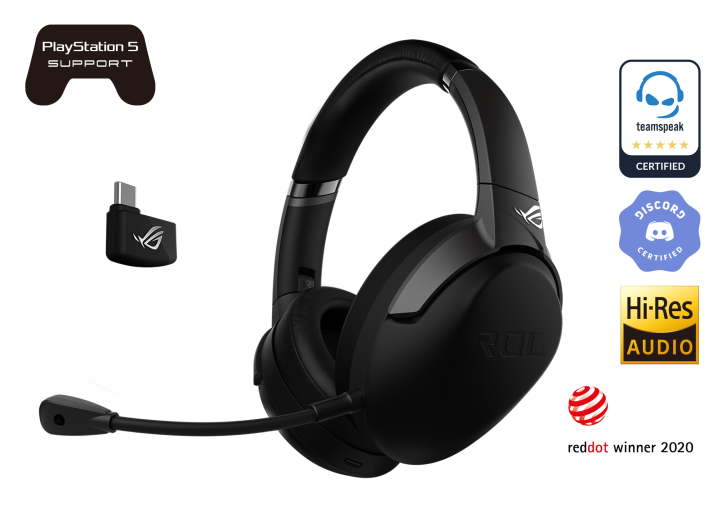 Game Wherever You Go
ROG Strix Go 2.4 ditches Bluetooth to become the world's first USB-C 2.4 GHz headset, enabling ultra-stable cordless connections for multi-platform on-the-go gaming. Enjoy lag-free audio on PC, PlayStation, Xbox, or smart devices, and roam anywhere with a Nintendo Switch in handheld mode. Strix Go 2.4 is lightweight, charges fast, and has a long-lasting battery for nonstop gaming sessions. It even boasts AI-powered noise-canceling microphones for crystal-clear communications anywhere.
Perfect Wireless Audio, Anywhere
Bluetooth connections often impart distracting lag. That's not a problem for ROG Strix Go 2.4 because it features USB-C 2.4 GHz RF technology with dual antennas for instant audio transmission — a combination that makes it the leading headset for mobile gaming* or handheld Nintendo Switch play. It's also perfect for at-home console or PC gaming, with a range of up to 20 meters – freeing you to dash to the bathroom or kitchen without losing your connection!
*Smart devices require a USB-C socket for full compatibility.
Extreme Lightweight Comfort
At just 290 g, ROG Strix Go 2.4 is an exceptionally lightweight wireless gaming headset, giving unbeatable comfort that's perfect for long gaming sessions. The foldable design is ideal for on-the-go gaming, making it a cinch to carry Strix Go 2.4 anywhere.
AI-Powered Noise-Cancelling Microphone
ROG Strix Go 2.4 is engineered with industry-leading, AI-powered noise-cancelling technology for crystal-clear in-game voice communication. The algorithm draws on a massive, deep-learning database to accurately identify and counteract environmental noises. The upshot is that everything from keyboard clatter to background human chatter is virtually eliminated – ensuring crystal-clear in-game voice communication with your teammates. This main boom mic is bidirectional, detachable, and certified by leading communication providers, including Discord and TeamSpeak.